Remote sensing services
IES Solutions developed  some research project exploiting optical sensors and RADAR in collaboration with IES Consulting and MESTOR. Our main customers have been the European Commission and the European Space Agency.
Our team has a solid knowledge of the features and the remote-sensor data processing modalities, and most of all of the uploading of the data on GIS/Web Gis platforms.
With DEMETER we developed a remote sensing data (related to hydrological stress status of cultivated soil). Our main effort has been targeted on forest fires, through our ITALSCAR and SARFIRE projects and MYME Incendi by our partner IES Consulting.
Some Realizations
JIXEL is the most used platform for viewing remote sensing data. In the following example you can see a map of burnt area during 2009 in Calabria Region.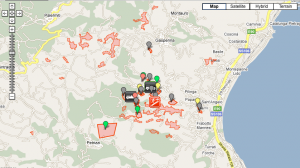 JIXEL Incendi merges satellite detected burnt areas with emergency services created alerts to allow assessment of fire affected areas.
The final goal of the system is to allow municipalities to produce periodic reports, highlighting burnt areas in the municipal area, useful to establish the land fires according to the law 353/2000.
The reports produced will be used to establish the land fires, in order to define constraints on buildings for the years subsequent to the fire.
Are you interested to consult the burnt areas? Try JIXEL Incendi.
Contact us to discuss your specific requirement and to build with us a solution for you.