With the support of the European Commission, "Forum for Public Safety Communication Europe"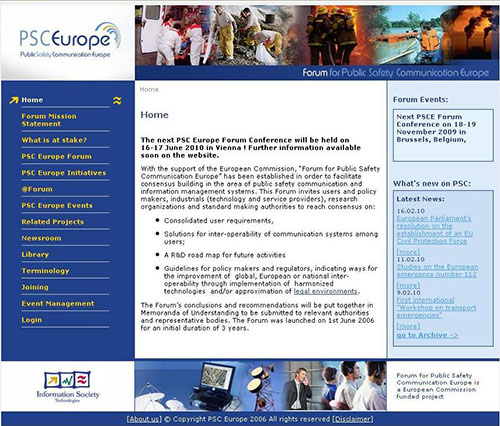 has been established in order to facilitate consensus building in the area of public safety communication and information management systems. This Forum invites users and policy makers, industrials (technology and service providers), research organizations and standard making authorities to reach consensus on:
* Consolidated user requirements,
* Solutions for inter-operability of communication systems among users;
* A R&D road map for future activities
* Guidelines for policy makers and regulators, indicating ways for the improvement of global, European or national inter-operability through implementation of harmonized technologies and/or approximation of legal environments.
The Forum's conclusions and recommendations will be put together in Memoranda of Understanding to be submitted to relevant authorities and representative bodies. The Forum was launched on 1st June 2006 for an initial duration of 3 years. At the moment PSC forum includes 449 members from 47 countries.
IES Solutions, one of the industrial partner of the Forum, attended the PSC Europe Forum Second Annual Assembly Second Annual Assembly in Ljubljana, Slovenia, 10th – 11th June 2008.