The 2017 edition of the CAP Implementation Workshop was held in Rome last 20 and 21 September.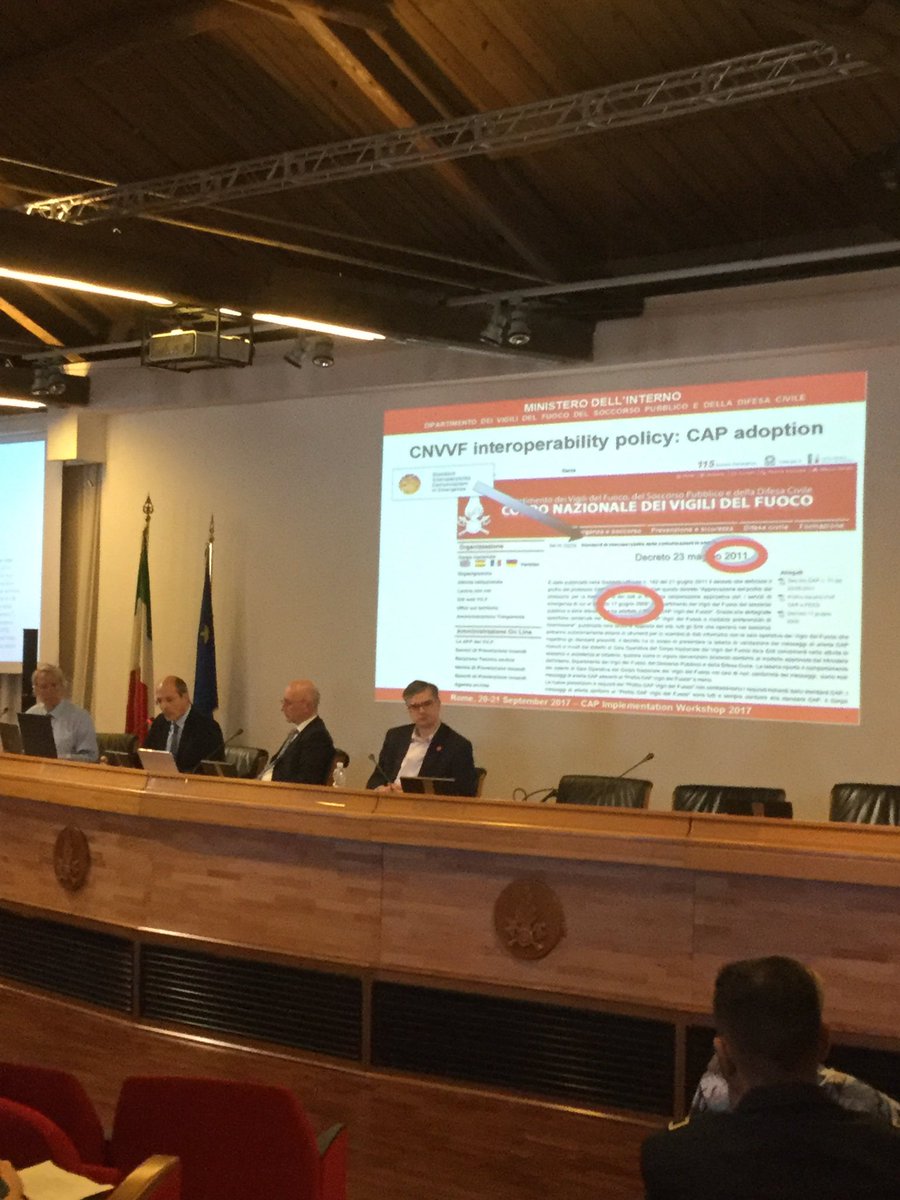 The event gathered representatives of public and private organisations that deal with CAP-based emergency communication from all over the world. CAP (Common Alerting Protocol) is the international communication standard used worldwide for emergency communication. The protocol has been adopted in Italy in 2008 by the Department of Firefighting, Public Safety and Civil Defence (Ministry of Interior): it is used by the National Firefighter Corp for exchanging messages and information between control rooms.
The Workshop offered the opportunity to share information, ideas and trends about data exchange, CAP use and public alerting. The speakers presented some uses cases of the current use of CAP by organisations from Countries all over the world, such as Philippines, Germany, Zimbabwe and China.
One of the speaker was Massimo Cristaldi, technical director of IES Solutions, which showed the use of CAP for alerting citizens through radio channels. The system, called JIXEL-RADIO and developed by IES Solutions, allows the organisation to send a message that will be automatically broadcasted by radio station as a voice message (read by a text-to-speech engine). JIXEL-RADIO is currently used by the Regional Department of the Sicilian Civil Protection. The presentation is available at the following link: http://www.preparecenter.org/sites/default/files/cap-workshop-2017-commercial-radio.pdf
More info on JIXEL-RADIO, the product of the JIXEL family, are available here: http://www.jixel.eu/web/en/jixel-radio/
The event ha been organised by the Italian Firefighters National Corp at the Istituto Superiore Antincendi in Rome (Italy). It was co-organised by International Association of Emergency Managers (IAEM), the International Federation of Red Cross and Red Crescent Societies (IFRC), the International Telecommunication Union (ITU), the OASIS standards organization and the World Meteorological Organization (WMO). On the 19th of September OASIS also organised a "CAP training session", an event with the goal of informing and training personnel on the use of Common Alerting Protocol. The event programme is available here:
http://www.preparecenter.org/sites/default/files/cap-workshop-2017-programme_37.pdf
The programme includes links to all the single presentations. The report (including the links to the presentations) is available here:
http://www.preparecenter.org/sites/default/files/cap-workshop-2017-report_3.pdf
The next CAP Implementation Workshop, 2018 edition, will be held in Hong Kong.
Recap
What: CAP Implementation Workshop 2017
When: 20-21/09/2017
Where: Istituto Superiore Antincendi, Rome, Italy
More info: http://www.preparecenter.org/sites/default/files/cap-workshop-2017-programme_37.pdf (workshop programme and presentations), http://www.preparecenter.org/sites/default/files/cap-workshop-2017-report_3.pdf (report),  http://www.jixel.eu/web/en/jixel-radio/(Jixel-RADIO)