In order to verify the coherence of the joint operation and cooperation of the various rescue units, a final exercise took place from 27 to 28 February 2019. The theme of the exercise was search for the injured from the avalanche.
The final practical exercise "ALPDIRIS 2019" was held near Val Saisera (near Tarvisio, Udine – Italy). The exercise was a final exercise within the EU project ALPDIRIS, which aims to upgrade and develop modern, new technological solutions for the management and monitoring of interventions. The project has developed an application for smart phones for rescuers on the ground, a web application for support management of interventions and graphical and Incident Management tools with graphical user interfaces, supporting procedures and exchange of forms for cross-border cooperation between Slovenia and Friuli-Venezia Giulia in the event of accidents.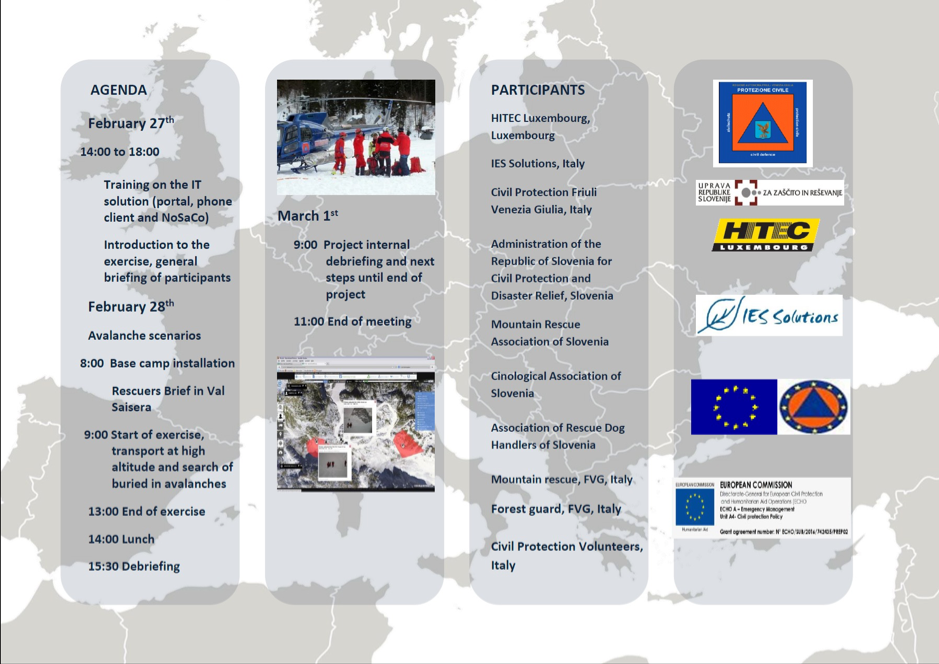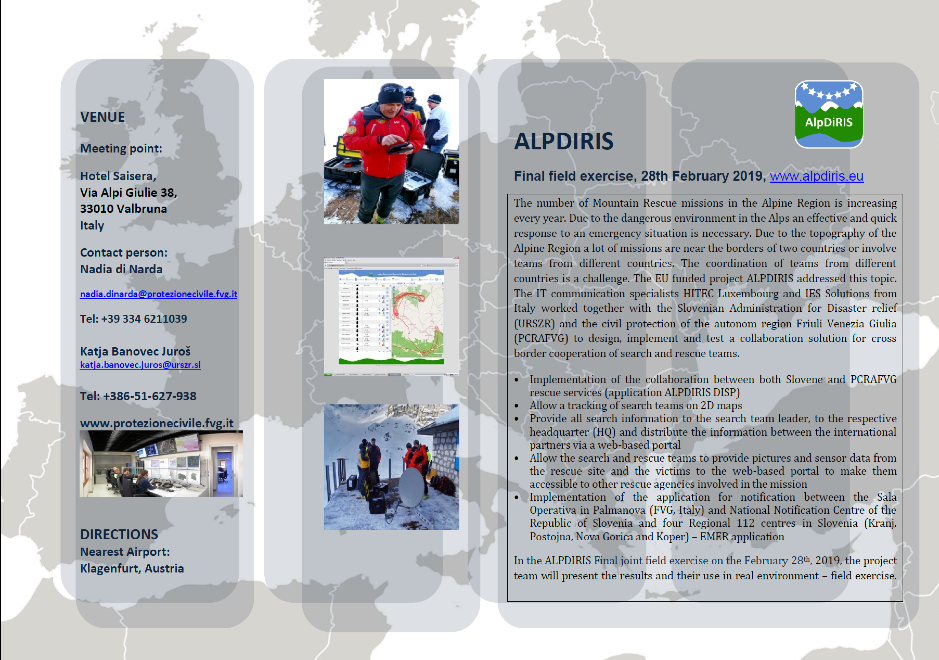 Location: Val Saisera, Italy
Date: 28 th and 29 th February 2019
Participants
Slovenia
Mountain Rescue Teams (3 persons)
Avalanche Dog Rescue team (6 dogs, 8 persons)
URSZR (5 persons)
Observers (Civil protection Kamnik (3-4 pers), red cross (5 pers))
Italy
Mountain Rescue Teams (10)
Fire fighters – Volunteers (2) Municipality of Val Saisera
Forest service (3)
Guardia di Financa – Avalanche Dog Rescue team (2 dogs, 3 persons)
PCRAFVG (6)
PCRAFVG Rescue Helicopter
HITEC
IES
ICT Tools
SAR mission support systems
Italy – Slovenia cooperation tools: tools supporting the exchange of informartion between Italy and Slovenia (Jixel Manager by IES, DISP by HITEC)
AlpDIRIS Reporter – Mobile App
Nodadic Satellite Communication Systems (NoSaCo) for Satellite Access
Scenario and objectives
The number of mountain rescue interventions in the Alpine region is increasing every year. A dangerous environment in the Alps requires an effective and rapid response to emergencies. Due to the topography of the Alpine area, there are interventions in the vicinity of the state borders of two countries, or interventions by teams from different countries. The co-ordination of teams from different countries is a major challenge that has been addressed by the EU-funded ALPDIRIS project.
In the exercise the scenario was based on search of victims in the avalanche with an emphasis on the collaboration with various rescue teams (services), with the emphasis on coordinating and managing demanding interventions, from the ICT supporting tools first, and from the filed then, involving representatives from several countries. In the exercise, part of the transport for participants in the exercise (due to the difficulty of access to the venue) was also carried out with an helicopter provided by the organizer.
HITEC Luxembourg and IES Solutions experts from Italy, together with the ACPDR and Civil Protection of the Autonomous Region of Friuli Venezia Giulia (PCRAFVG), designed and implemented a solution to cooperate in the cross-border cooperation of rescue teams. The goal of the final exercise was to check the results of the project in practical work on the field.
When conducting and coordinating the practical part of the exercise, the purpose and goal of the exercise was to verify also:
data exchange between the Sala Operativa in Palmanova (FVG, Italy) and CORS and four regional centers 112 in Slovenia (Kranj, Postojna, Nova Gorica and Koper) – Jixel Manager (IES) and DISP (HITEC) applications
implementation of cooperation between Slovenian and PCRAFVG rescue services (application ALPDIRIS DISP)
providing images and video clips to search and rescue teams, from rescue sites and data on victims / victims on the web portal and their accessibility to other rescue services / agencies involved in rescue intervention
Location of the exercise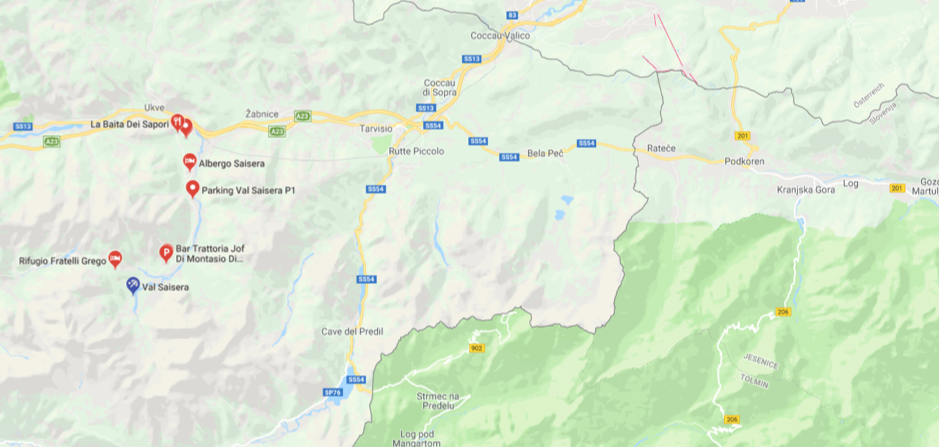 Pictures from the exercise