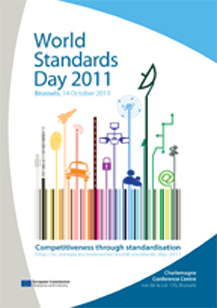 We at IES are proud to inform you that our CEO, Dr. Uberto Delprato, has been invited as panelist to the 'World Standards Day' 2011 Conference.
He will be presenting the case of an SME that built a business story based on an open standard. To unveil an easy secret, this invitation stems from the research IES developed in the EC-funded project REACT, building on the CAP standard for data interoperability.
A brief summary of what IES did during the recent year further to the REACT project, would make the reader more aware of what data interoperability means in everyday life and which product are available today.
In 2009, Further to the adoption of the CAP standard by the Italian Ministry of Interior (Dept. of Fire Fighters), a specific application was developed for managing the aftermath of the L'Aquila earthquake (particularly for sharing information about the activities on historical buildings.
Later in the same year, a dedicated CAP-based system was delivered for coordinating operations against forest fires. The application got awarded at the ForumPA conference 2010 as an outstanding innovative application in environmental safety. The application has being used also in 2010. An estimate of Italian Fire Fighters Dept. (CNVVF) on the impact of such application on forest fires was "a reduction by 40% of the time of arrival at the fire site".
In 2011, an new application of our CAP-based suite of product, JIXEL was developed for empowering deaf people to place emergency calls with the Fire Fighters Italian emergency Number 115. Such application, named 115-4-DEAF, was launched by CNVVF during the 2nd International Conference on Interoperability held in Venice on 19th May 2011. 115-4-DEAF was also awarded at ForumPA 2011 as one of the most relevant innovation in bringing citizens and Public Administration closer. It is now in testing phase in Veneto Region.
Later, on 21st June 2011, the Italian Ministry of Interior (Dept. of Fire Fighters), released an official decree about the full adoption and the CAP protocol as "CAP Italian Profile", along with templates and mechanisms for a full exchange of message with any other Organisation.
The system developed by IES for CNVVF is now part of a roll-out plan throughout Italy (starting from Veneto Region). In the meantime, IES and CNVVF continue to work together with several Emergency Associations across Europe to foster the adoption of a European profile for CAP messages (very much alike what they did in Canada and, partly, in the US).
Stay tuned on https://ies.solutions for our next developments: an app for sending requests for help and a solution integrating satellite imagery and ground data for assessing the impact of forest fire.
Download the Conference Programme
Download the Presentation
Download the Speech
Watch the video of the Conference (Dr. Uberto Delprato's speech available from minute 300 to 316)