REACH112, a three-year project partially funded by the European Commission under the ICT PSP CIP programme, will introduce in five european countries (France, the Netherlands, Sweden, Spain and the UK) improved communication solutions for disabled people, allowing them direct access to emergency services.
The project is coordinated by IES Solutions and gathers 22 partners from all over Europe.
In the following the Press Release about the start of the project, in 7 different languages.
Start of the project Press Release – Italian language
Start of the project Press Release – English language
Start of the project Press Release – Dutch language
Start of the project Press Release – Swedish language
Start of the project Press Release – Spanish language
Start of the project Press Release – French language
Start of the project Press Release – Greek language
The news about the start of REACH112, issued by the Corpo Nazionale dei Vigili del Fuoco – http://www.vigilfuoco.it/notiziario/notizia.asp?codnews=8522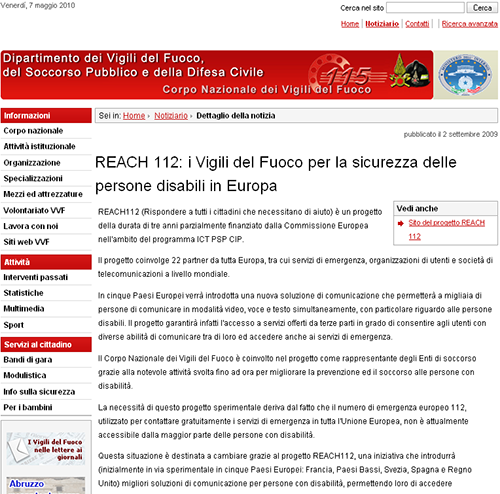 – has been also announced by:
Further link to the news:
http://www.edf-feph.org/Page_Generale.asp?DocID=13854&thebloc=22126

http://www.cnditalia.it/2009/07/31/reach-112-accessibile-a-tutti/